you won't be disappointed if you do get one
They look like air soft setup, have you modified for gels @Bandit75?
Tac edge will have some soon apparently
They sold out quickly last batch
That's my main CQB.
I had a HQi MP5K which I broke.
I use my SAW in CQB very often…if you want to terrify everyone and hold an area, sending a very loud constant stream of glows down a hallway works a treat.
Also now just got a LDT MP5.
And am about to shove the guts of the MP5K into a XM316 receiver…will be an absolutely nuts machine pistol with a huge drum.
I also have a Shark and XTP.
Need to some how mount a hidden battery…
@Slick Maybe a dummy peq box?

Wow cool. Been turning this over in my head for the last couple of days… this is exactly how I picture m4 pewstols, except with slightly shorter mags (if they exist).
Well done! Only way I can come up with is a fatter, slightly longer handguard to suit smallest battery.
A couple small ones connected in parallel could still add up to decent mAh, and should squeeze into like a 5" guard…
What are the receivers/gearbox?
Very nice. Jealous…
Edit: probly no inner barrel. A stainless 7 3mm should be rigid enough at that length to get away without one.
Could cut down the mag.
Its a kublia k1 receiver with k2 gearbox. Has a 120mm alloy 7.3 inner. 50% cylinder, nylon gears, m160 motor and 1.18 spring.
Got this battery hmm
What about modding a scope of some sort to store a battery in?
Could use a dytac foregrip, they can house a battery
My standard load out for cqb
Or a fake laser…
I was thinking a guard like this

but 5-6 inch.
That little turnigy is a bit small, capacity-wise…but if using as cool sidearm then maybe only need a few mags worth of power.
I'm envisioning a double shoulder rig dual-weild mp5k style for run-and-■■■ madness! So the other problem is changing out batteries becomes a bit of a pain in the arse…
Fake laser/scope might be a bit more realistic, if only for ease of use…
Some lads were surprised to hear a mag prime in mine
Even more so to find out I have fire modes
New scratch built M4. I am calling it the Red Dragon M4 CQB
I've also added the build list so some of you guys new to mods can see what parts I used in this build.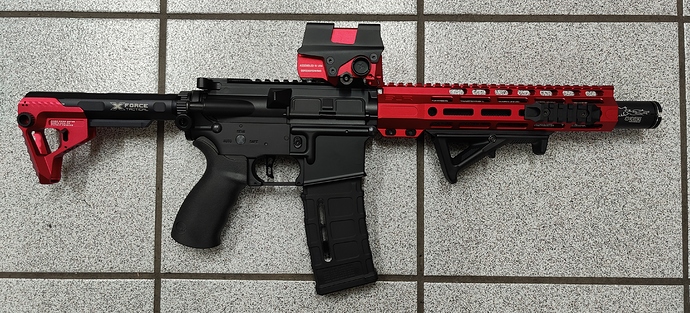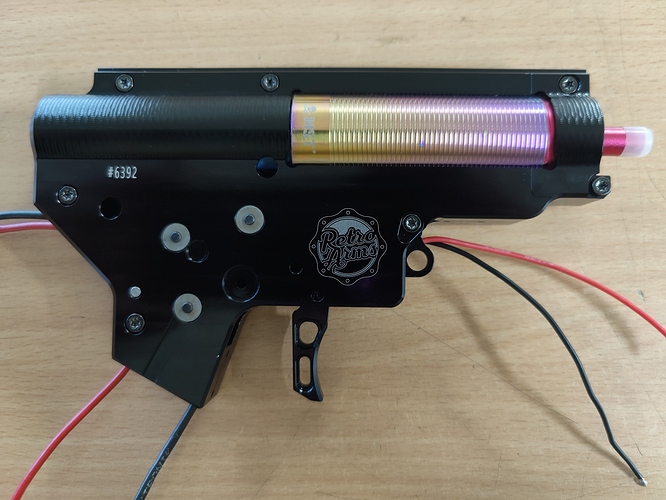 Wells M4 metal receiver
SLR 10" Alloy handguard
Pit Viper Full alloy stock/Buffer tube
Troy buffer tube sling mount
SLR alloy outer barrel
CHGBB 290mm S/S inner barrel
Wells M4 t-piece
CHGBB t piece barrel adaptor
Noveske alloy flash hider
Rizer 13mm nylon hop up
Low profile angled fore grip
Romeo 8T Reflex sight
Element Ergo pistol grip
Retoarms V2 gearbox
Retoarms low profile bushes
Retoarms CNC trigger
SHS 18:1 Gear set
SHS 14t Piston
SHS Nylon piston head brown O ring
SHS Anti-reverse latch
Wells metal cylinder head/nozzle
MST Wells 70% cylinder
Wells tappet plate
Wells selector plate
SHS safety cut-off lever
Ausgel 1.28 spring
Perun V2 MOSFET
XT30 connectors
Chi Hai 480 Neo Magnet 26TPA motor
Turnigy 3s 1200mah 25-50c lipo
360 to 370fps
20 rps
It's beautiful @Rattler…any chance of a video to hear what it sounds like ?
Thank you !
I don't usually do videos,see Low guido for them👍
Maybe if I get a chance tomorrow
Mate your blasters are always just the classiest bits of kit. So well made and executed. They make my blasters look like lumps of shit that I've nailed together from plumbing waste and old appliances stolen from an abandoned council estate house. I fucking love your work bud